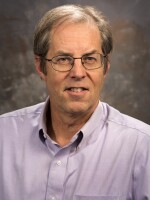 Grady Kirkpatrick
Program Director and Wyoming Sounds Host
Grady has taken a circuitous route from his hometown of Kansas City to Wyoming. Sometime after the London Bridge had fallen down, he moved to Arizona and attended Arizona State University and actually graduated from Northern Arizona University in Flagstaff. ("He's a Lumberjack and he's OK……..!") He began his radio career in Prescott in 1982 and eventually returned to Kansas City where he continued in radio through the summer of 1991. Public Radio and the Commonwealth of Kentucky beckoned him to the bluegrass state where he worked as Operations/Program Manager at WKMS in Murray and WNKU in Highland Heights just across the Ohio from Cincinnati.
After 16 great years in Kentucky, Grady & Cheryl packed the family (2 kids, 2 cats, and a dog) and headed for Wyoming in the middle of winter to hire on as Music Director for Wyoming Public Media. He hosted Morning Music and now Wyoming Sounds and was also hired as Program Director. Besides radio, Grady has worked in construction and likes to play outdoors (camp, fish, bike, hike, ski, golf). He loves music, of course, traveling, stargazing and American history.
Email: wkirkpa1@uwyo.edu
Phone: 307-766-6624

Kellen Smith from Gillette and the Nate Champion Band from Sheridan played together for a Wyoming SoundsStudio Session Friday May13th ahead of their show at the Cowboy Saloon in Laramie.Hear music and conversation with Grady Kirkpatrick.

Lander based bluegrassers The Low Water String Band released Wyoming Wind, a new E.P. Grady Kirkpatrick features a few of the songs and talks with band member Joe LeFevre.

The Sheridan based, acoustic quartet the Two Tracks played a studio session on Wyoming Sounds ahead of their show at the Gryphon Theatre.

Guitar Master, Rock and Roll Hall of Famer and Latin, Blues Rock legend Carlos Santana talked with Grady Kirkpatrick about his beginnings and the new album, Blessings and Miracles, ahead of his concert in Casper April 6, 2022.

Cole Gallagher from Pasadena performed songs live on Wyoming Sounds March 4th with Grady Kirkpatrick.

Sisters Eleanor and Bonnie Whitmore, are accomplished songwriters, instrumentalists, and vocalists. They have now released their first album together as The Whitmore Sisters. Grady Kirkpatrick talked with Bonnie Whitmore about the new album.

Former Jackson Hole and Laramie resident Bill Plummer, a master of the String Bass passed away in Gold Canyon, Arizona January 18 at the age of 83. Bill Plummer had a legendary career performing with an incredible range of artists including The Rolling Stones, Miles Davis, Nancy Wilson, Tony Bennett, Willie Nelson, Ry Cooder, and many Wyoming musicians.

We asked listeners to vote from two lists, the top songs of 2021 and the top Wyoming albums of 2021, and we received an abundance of votes! Thanks to everyone who voted and thank you for listening to Wyoming Sounds.

Nashville-based singer-songwriter Shannon LaBrie visited Wyoming Sounds for a Studio Session with Grady Kirkpatrick.

Rob Weimann on Wyoming Sounds recorded 11/5/21.