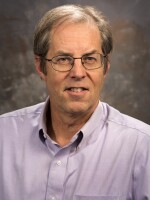 Grady Kirkpatrick
Program Director and Wyoming Sounds Host
Grady has taken a circuitous route from his hometown of Kansas City to Wyoming. Sometime after the London Bridge had fallen down, he moved to Arizona and attended Arizona State University and actually graduated from Northern Arizona University in Flagstaff. ("He's a Lumberjack and he's OK……..!") He began his radio career in Prescott in 1982 and eventually returned to Kansas City where he continued in radio through the summer of 1991. Public Radio and the Commonwealth of Kentucky beckoned him to the bluegrass state where he worked as Operations/Program Manager at WKMS in Murray and WNKU in Highland Heights just across the Ohio from Cincinnati.
After 16 great years in Kentucky, Grady & Cheryl packed the family (2 kids, 2 cats, and a dog) and headed for Wyoming in the middle of winter to hire on as Music Director for Wyoming Public Media. He hosted Morning Music and now Wyoming Sounds and was also hired as Program Director. Besides radio, Grady has worked in construction and likes to play outdoors (camp, fish, bike, hike, ski, golf). He loves music, of course, traveling, stargazing and American history.
Email: wkirkpa1@uwyo.edu
Phone: 307-766-6624

You can vote for your favorite songs of 2022. Pick your top songs along with your favorite albums from Wyoming musicians.

Laramie native and MOJA producer Carl Gustafson on Wyoming Sounds.Grady Kirkpatrick talks with project producer Carl Gustafson from Laramie about MOJA: A Music Saga. It's the story of African-influenced music through seven generations.

Wyoming Public Media News Director Bob Beck sat in with Grady Kirkpatrick as guest DJ with stories of his early days in radio while spinning some of his favorite tunes on Wyoming Sounds Wednesday, October 5th.

Steve Davis, winner of the 2022 Wyoming Singer-Songwriter competition, played a studio session with Grady Kirkpatrick on September 30, 2022.

Duo Cintemani, featuring guitarist Nicholas Ciraldo and flutist Rachel Taratoot Ciraldo played a Studio Session with Grady Kirkpatrick ahead of their performance on September 30, 2022, at the University of Wyoming.

Northern Arapaho singer-songwriter Christian Wallowing Bull joined Grady Kirkpatrick for a Wyoming Sounds studio session ahead of performances at SOK Gallery in Laramie and the Red River Festival in New Mexico.

Open Spaces show rundown for August 26th, 2022

Mark Miller is a former Wyoming state archaeologist and author of a new book, "Big Nose George and His Troublesome Trail." Grady Kirkpatrick recently spoke with Mr. Miller about his book and the notorious Wyoming outlaw.

Kellen Smith from Gillette and the Nate Champion Band from Sheridan played together for a Wyoming SoundsStudio Session Friday May13th ahead of their show at the Cowboy Saloon in Laramie.Hear music and conversation with Grady Kirkpatrick.

Lander based bluegrassers The Low Water String Band released Wyoming Wind, a new E.P. Grady Kirkpatrick features a few of the songs and talks with band member Joe LeFevre.