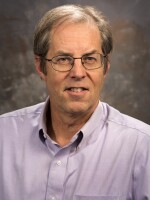 Grady Kirkpatrick
Program Director and Wyoming Sounds Host
Grady has taken a circuitous route from his hometown of Kansas City to Wyoming. Sometime after the London Bridge had fallen down, he moved to Arizona and attended Arizona State University and actually graduated from Northern Arizona University in Flagstaff. ("He's a Lumberjack and he's OK……..!") He began his radio career in Prescott in 1982 and eventually returned to Kansas City where he continued in radio through the summer of 1991. Public Radio and the Commonwealth of Kentucky beckoned him to the bluegrass state where he worked as Operations/Program Manager at WKMS in Murray and WNKU in Highland Heights just across the Ohio from Cincinnati.
After 16 great years in Kentucky, Grady & Cheryl packed the family (2 kids, 2 cats, and a dog) and headed for Wyoming in the middle of winter to hire on as Music Director for Wyoming Public Media. He hosted Morning Music and now Wyoming Sounds and was also hired as Program Director. Besides radio, Grady has worked in construction and likes to play outdoors (camp, fish, bike, hike, ski, golf). He loves music, of course, traveling, stargazing and American history.
Email: wkirkpa1@uwyo.edu
Phone: 307-766-6624

Grammy award-winning and platinum-selling artist Suzy Bogguss talked with Grady Kirkpatrick ahead of her show at the Lincoln Theatre in Cheyenne.

John Depew on Wyoming Sounds recorded 9/09/21.

Aaron Davis on Wyoming Sounds recorded 9/03/21.

Lovers Leap live on Wyoming Sounds recorded 8/12/21.

Ten Cent Stranger live on Wyoming Sounds recorded 8/10/21.

Open Spaces show rundown for August 6th, 2021

Sally & George live on Wyoming Sounds recorded 7/08/21.

Bob Lefevre & The Already Gone live on Wyoming Sounds recorded 7/01/21.

Grady Kirkpatrick recently talked with Aaron Lee Tasjan about his new album Tasjan, Tasjan, Tasjan listed by Rolling Stone magazine as among the best of 2021 so far. Aaron also made a recent appearance on Elton John's Rocket Hour.

Grady Kirkpatrick spoke with South Dakota native and The Artisanals frontman Johnny Delaware about the release of their new album Zia.