Even With Food Freedom Act, Wyoming Ranchers Struggle To Get Beef On Plates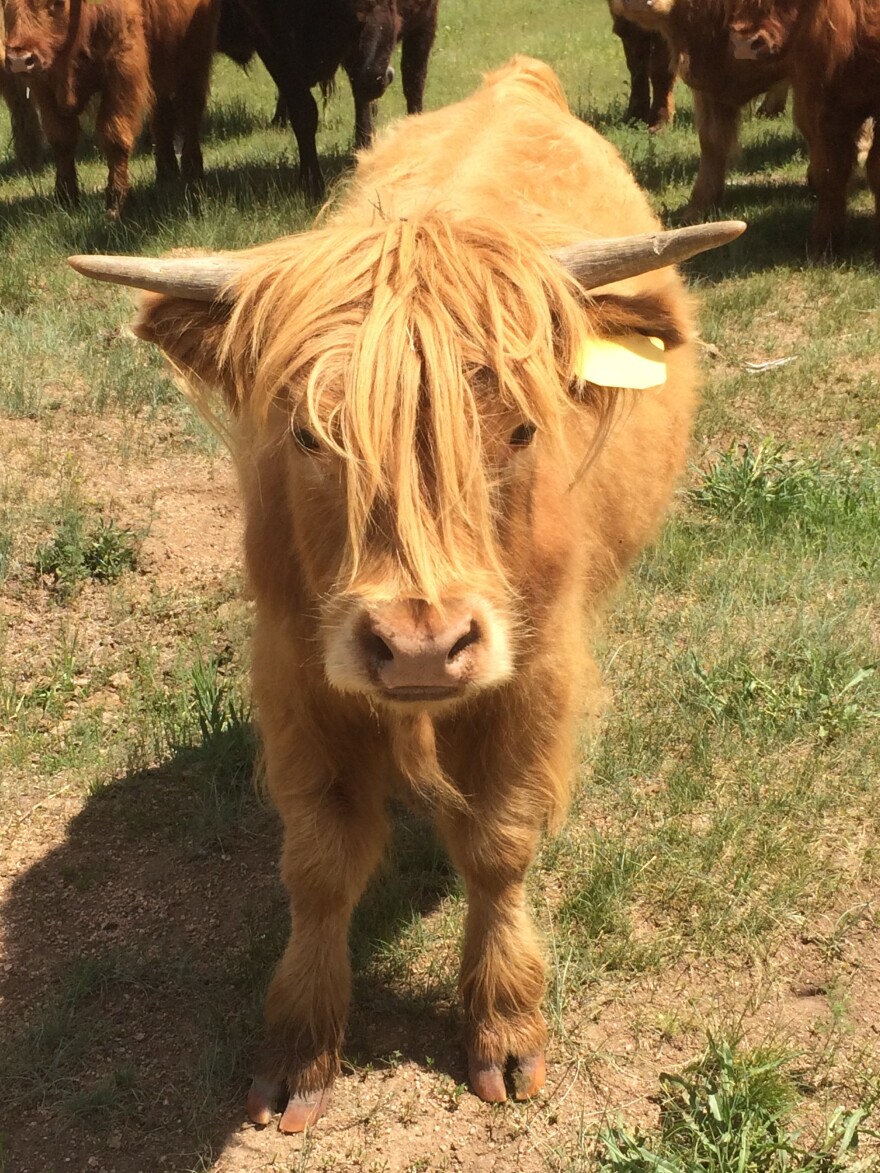 In 2015, Wyoming passed the Food Freedom Act, giving the state the most lenient local food regulations in the country. It allows Wyoming farmers to sell things other states can't, like raw milk, eggs and poultry direct to consumers. But many Wyoming food producers say, there's still one road block: beef. The issue is that federal regulations make it hard to market Wyoming branded beef outside the state where all the customers are.
True to their name, the Black Market Farm near Centennial in southern Wyoming, doesn't do things by the book. For instance, today's cattle drive. Unlike most ranches, it's not twice a year up to the high country and back.
this one is every couple days. Cowboys are moving the animals from one small pasture to another.
"I mean, we're on the high plateaus, the high range here," says Matt Sigel from the driver's seat of his Jeep. "These grasses are cool weather grasses. They're higher in Omega 3's."
Sigel says the ranch doesn't cut and sell these grasses as hay, like most ranches. They let their cattle graze all of it. He says that improves the beef's flavor.
"We have an interesting beef à-terre. It tastes like the land it comes from."
And it's not just Black Market Farm. Many Wyoming ranchers are experimenting with grass fed. But as tasty as Wyoming's beef is, Sigel says it isn't so easy to get onto people's plates.
"It's been hard to market," Sigel admits. "Wyoming is a small state and we've had to lean out of the state."
Sigel says there just isn't a big enough population in Wyoming willing to pay a premium for natural beef. But to sell across state lines, ranchers have to pay to ship their cattle hours away to a USDA inspected plant in a neighboring state, rather than closer by to one of the 15 state-inspected plants. Many opt to ship their cattle to feedlots instead, but, after that, the meat can no longer be marketed as Wyoming grown. That's why, for years, ranchers have been lamenting the lack of a USDA plant in Wyoming.
Enter Wyoming Legacy Meat owner Frank Schmidt.
"We should be known as a state that produces the finest cattle anywhere."
Up in Cody, Schmidt just opened the first USDA full-service meat processing plant in Wyoming in 40 years.
"I mean, if you think about it, our grass is as good as it gets, our atmosphere, the air they breathe, the water they drink, the humane treatment and the way they're handled allows these animals the best possible way to grow," he said.
Schmidt said it was really expensive to become USDA certified. But he decided to go for it because, as a rancher, he was frustrated with the traditional approach to processing beef. Most ranchers ship their cattle to feedlots where they are bought and sold up to six times before their meat is finally swept into the nation's bulk beef supply.
"I have a strong opinion about this," Schmidt said. "I think the ranchers are doing a lot of the work to feed America and they don't get recognized."
Schmidt said his USDA plant will save northern Wyoming ranchers money on transportation and pay them a higher price for antibiotic and hormone free beef.
Meanwhile, just across town at the state's only other USDA meat plant is a beef jerky factory, Wyoming Authentic Products. Operations manager Josh Oilar said the company is having some success spreading the word about Wyoming's higher quality beef. Right there on their label, they proclaim it: "Beef exclusively from Wyoming ranches. Never ever any added hormones or antibiotics," Oilar read.
In exchange for that extra work ranchers take on, he said, "Each bag of jerky, we tell them what ranch it came from. It's on the bag. It'll say Knuckles Ranch or Wagonhound Ranch."
Oilar said the company's goal is to put Wyoming's uniquely flavored beef on the map.
"Right now, we are in 7-11's all over the country. We're in Cracker Barrel all over the country. It'd just be nice for us to get a few more big accounts, big retailers, so we can get the volume to justify growth."
Rancher and Crook County Representative Tyler Lindholm would love to see Wyoming branding like that grow. He's the sponsor of the Food Freedom Act that lifted rules blocking the sale of many local foods directly to consumers.
"You can look across your landscape in Wyoming and see small farms and ranches disappearing," Lindholm said. "I think that's got a lot to do with the fact you can't diversify your dollar. You're trapped in. When you're doing cattle, you're trapped in pretty much one way to do it and that's it."
Lindholm said, the state has now done all it can do to make it easier for local food producers to market their products. He said now it's time to change the law at the national level.
He laughed and said, "This is the far right and the far left finally agreeing on something. It's really pretty wild. Our biggest problem is the moderates."
Lindholm would like to see a proposed law called the PRIME Act pass that would allow states to make their own meat processing rules. It could potentially mean Wyoming ranchers could sell beef slaughtered and processed by local custom butchers, although they still couldn't sell it across state lines.
But Wyoming Department of Agriculture's Linda Stratton said those cattle aren't inspected.
Butter Brushed Porterhouse Steak 2 Porterhouse (or T-bone) steaks, 1" to 1 1/4" thick For the marinade: 2 T unfiltered extra virgin olive oil 2 cloves garlic 2 green onions 1 t freshly ground pepper For broiling: 2 T pastured butter 1 t coarse unrefined sea salt, crushed 1. Rub olive oil into all sides of steaks. Crush the garlic and green onion, chop small, and press into all sides of the steaks. Sprinkle the pepper over all sides of the steaks. Let rest for 1 hour at room temperature. 2. Melt the butter and keep warm. 3. Bring the oven rack to the 2nd highest position (approx 4" below broiler element) 4. Lightly grease broiler rack, set in a pan. Turn oven on to broil and let pan and rack heat for 5 minutes with the over door partially open. 5. Scrape marinade off steaks and discard. Place steaks on preheated broiler rack. Cook for 2 minutes. Turn the steaks over and cook for 2 more minutes. 6. Remove steaks from oven, brush each side with melted butter, then sprinkle each side with the salt. Return to oven and cook for 2-3 min on each side, depending on thickness and how you like them done. Serve. -Recipe and instructions courtesy of Black Market Farm and "Tender Grassfed Meat" by Stanley A. Fishman.
"Well, I've seen some pretty sick animals and stuff," she said. "And what you see inside, you don't want to eat so I'd be hesitant about it. You know, the tuberculosis, some aren't vaccinating for that or getting animals from other countries and stuff."
Back out at the cattle drive, Black Market Farm's Matt Sigel says the healthiest way to slaughter an animal is to have his butcher do it right on his ranch. Under current rules, he can do that for customers who buy a share of an animal.
"He comes out with a refrigerated truck. And one second their eating, the next minute they're harvested. It's fantastic. There's no stress."
The PRIME Act was unsuccessfully introduced two years ago but bipartisan sponsors in Congress say they plan to try again this year.