Arch Coal Asks For Volunteers To Take Unpaid Leave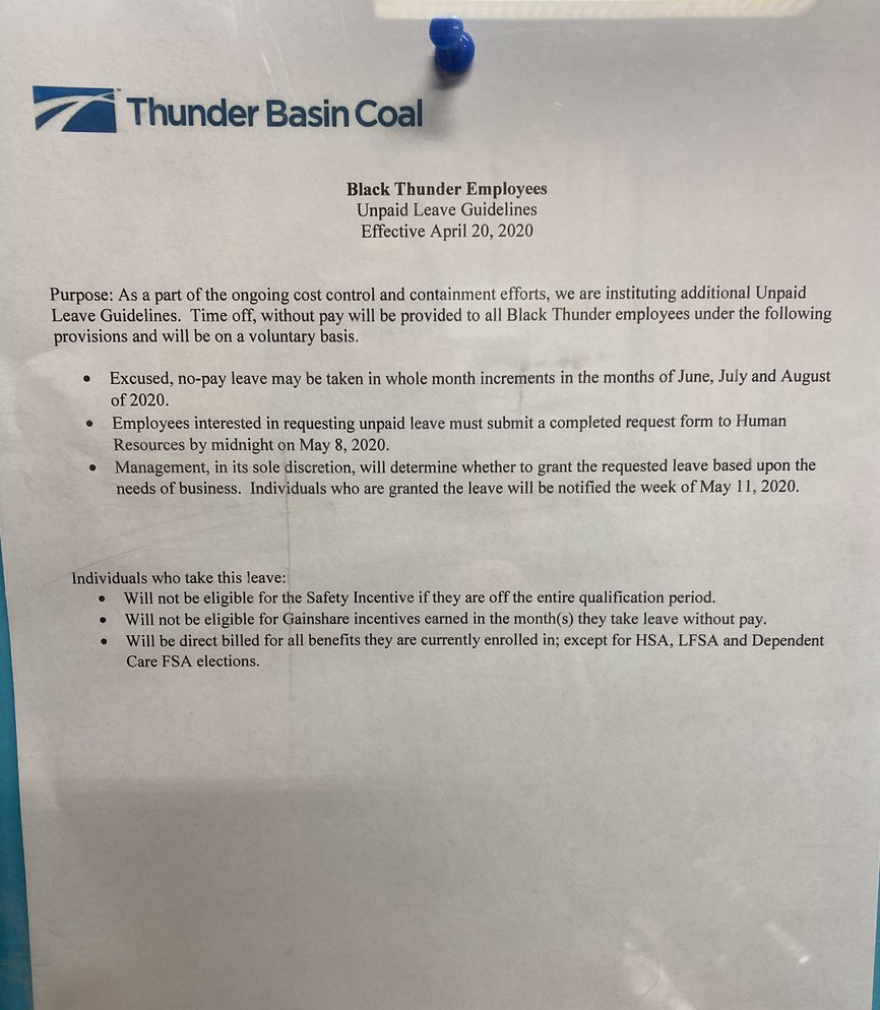 As other Powder River Basin (PRB) coal companies lay off miners by the hundred, Arch Coal, operator of the Coal Creek and Black Thunder mines, is asking its Wyoming employees to volunteer for unpaid leave without benefits.
"As part of the ongoing cost control and containment efforts, we are instituting additional Unpaid Leave Guidelines… excused no-pay leave may be taken in whole month increments in the months of June, July and August of 2020," read an announcement posted at its Black Thunder mine.
Workers have until May 8 to request the furlough. Arch Coal would not pay into its employees healthcare care plans when employees are furloughed.
The company shed insight into the need for cost-savings through its latest corporate filings. Revenue fell 27 percent in the first quarter of 2020 versus the same period last year with problems highlighted in the PRB. Sales of PRB coal fell 17 percent from Q1 2020 compared to Q1 2019. Arch's sale of metallurgical coal fell less than 1 percent.
Arch also saw its cost of mining go up in the PRB by about $2 per ton sold with its cash margin per ton sold falling into the negatives by 110 percent.
"We expect this demand destruction to continue and possibly accelerate until such responses to control the spread of the virus can be rolled back or mitigated," read the company's 10-K , a quarterly report.
While the filings didn't mention the Unpaid Leave plan, it did explain a similar program for its corporate staff. Its Voluntary Separation program, put together in February in response to overall structural declines, resulted in the shedding of 30 percent of its corporate staff or 53 people.
The company expects to save about $6 million in 2020 and more than double that in 2021. Arch also spent a one-time $5.8 million in severance costs to those corporate staff members.
With a steep decline in production and increased costs to sell coal, Arch CFO John Drexler said it will have to adjust its operating structure and operating costs.
"Included in these projections, Arch is now forecasting a reduction in 2020 capital spending of $20 million, the majority of which is related to its thermal operations," read the outlook section in the company's 8-K , a report filed disclosing unexpected events.
Rob Godby, an energy economist at the University of Wyoming, said it's hard to imagine Arch avoiding layoffs with its production down 17 percent, so a voluntary unpaid leave program may be a smart place to start.
"You may as well try that. It's sort of like dipping a toe in the water before going all out," he said. "If they don't get much there, what's their alternative?"
Wyoming Public Radio reached out to Arch Coal several times over the past week and have not yet heard back.
Have a question about this story? Contact the reporter, Cooper McKim, at cmckim5@uwyo.edu.