Bighorn National Forest restoration project aimed to mitigate wildfires receives final approval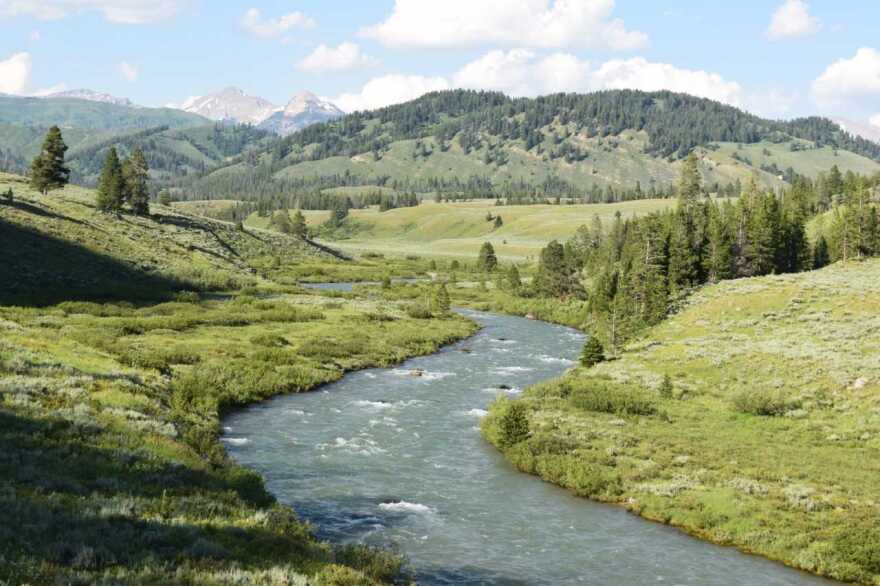 Next summer, officials with the Bighorn National Forest will begin tree thinning and natural habitation restoration projects in northeastern Wyoming's Goose Creek Watershed as part of its recently approved management plan.
The project, which is set to begin in July 2022, aims to mitigate the effects of future wildfires that may occur in the watershed. Sara Evans Kirol, a spokeswoman for the U.S. Forest Service (USFS) said that approximately 15,000 acres out of a 74,000-acre area will be impacted as part of the project. Those areas have been identified as being at risk if a major wildfire were to occur there.
"There was a wildfire hazard assessment prepared by the State of Wyoming and that assessment determined the answer is yes [there is a risk]," she says. "So, they found mature and decadent timber in the watershed that has not seen wildfire for over a hundred years, and so that just puts that area at higher risk for widespread or high-intensity fire."
The report issued by the state was completed in 2019. Evans Kirol said the plan is taking a proactive approach in order to reduce the effects seen with previous wildfires-including one in 1988 that burned a large area near Buffalo. According to the report, both Sheridan and Buffalo's municipal water sources could be impacted by wildfire.
The report also lists the 1996 Buffalo Creek fire and the 2002 Hayman fires in Colorado as other examples of the damage that wildfires can inflict on watersheds. In these cases, Denver Water spent over $27 million to mitigate the effects these fires had, which included burn scars causing heavy rains to wash sediment into reservoirs that would have been otherwise mitigated by vegetation.
In 2014, former Wyoming Gov. Matt Mead convened a task force to study how the state would manage its forests and lessen the impacts of wildfires. A report released by the task force recommended establishing "cross-jurisdictional watershed protection plans for municipal water-supply drainages that focus on proactive management to preserve and enhance water quality."
The Goose Creek Watershed project aims to reduce the number of trees in the area, so potential forest fires don't have more adverse effects on the watershed than necessary. Tree removal will include both commercial and non-commercial logging operations. Evans Kirol said that approximately 9,000 acres will be available for hand-thinned, non-commercial logging, with about 3,700 acres available for commercial logging operations.
The project is slated to continue for at least a decade. Evans Kirol said it will be overseen by several state, local, and federal agencies, including the National Forest Service, the Wyoming Department of Game and Fish, the Wyoming State Forestry Division, the City of Sheridan, and the Sheridan Water Board, among others.
The length of the project will also depend on funding. Currently, estimates of $1,000 per acre for hand-thinning and piling are expected, which are for non-commercial and aspen treatments. For commercial operations, bids will be solicited and businesses will purchase the timber. Evans Kirol said that this amount depends on the market and that a total estimate isn't feasible yet.
The restoration of riparian and aspen habitats and public infrastructure improvements are also planned, which will include about 800 acres of aspen restoration and 1,800 acres or riparian restoration. Riparian restoration will primarily occur along waterways, where hand-treatments will take place for tree removal. Additionally, animals such as beavers may be reintroduced into certain areas, sometimes decades after they were forced out.
They once called these areas home but were driven out largely by humans. Though many trees will be cut down, others will be planted to help aid in the restoration process. Small-scale planting may take place with trees such as willows being placed along streams that are specific to riparian restoration efforts.
Evans Kirol said there are no planned or anticipated disruptions during the project to any city or municipal water sources. "What we're trying to do with these is prevent disruptions if there was a large wildfire, something that created ash, sediment, debris, and put into the watershed. That would create a much greater disturbance than our projects," she stated.
Forest management has been a controversial topic that has aroused different conceptions as to what is best for forests, residents, wildlife, and economies. For this project, there were no major objections from residents that opposed the project's inclusion of logging, either commercially or non-commercially, or to the project in general.
Public comment was taken on the project during the planning stages, with concerns from residents being raised about various issues, such as accessibility to properties during the project. A common concern that residents had was related to prescribed burning and if it would be included in the final plans. Currently, there are no plans to conduct them.
"The prescribed fire component was dropped as part of the proposed action. The Forest, in conjunction with and as allowed by adjoining private landowners, will continue to investigate the feasibility of performing any prescribed fire actions in this watershed," stated a USFS response to several comments on prescribed burning.
Recreation improvements will also be undertaken as part of the project. Evans Kirol said that roads will be re-crowned to reduce the amount of sediment that flows down the shoulders with culverts and bridges also being repaired or replaced to improve drainage. New toilets will be replaced or installed in areas such as trailheads with the possibility of new parking lots and trailheads being options as well.
While public comment did occur during the project's planning phases, Evans Kirol said that she would like to see more public engagement in projects that the Forest Service has. She said that getting the word out can be difficult due to the wide variety of media sources and platforms that exist.
"We try really hard to reach people," she said. "But sometimes it's difficult not knowing what media platform they're on or if they read the newspaper, if they listen to the radio. Just having people be a little bit more proactive and being involved would be really helpful for everybody."