Arch Coal And Peabody Energy Combine Forces To Address Stiffer Competition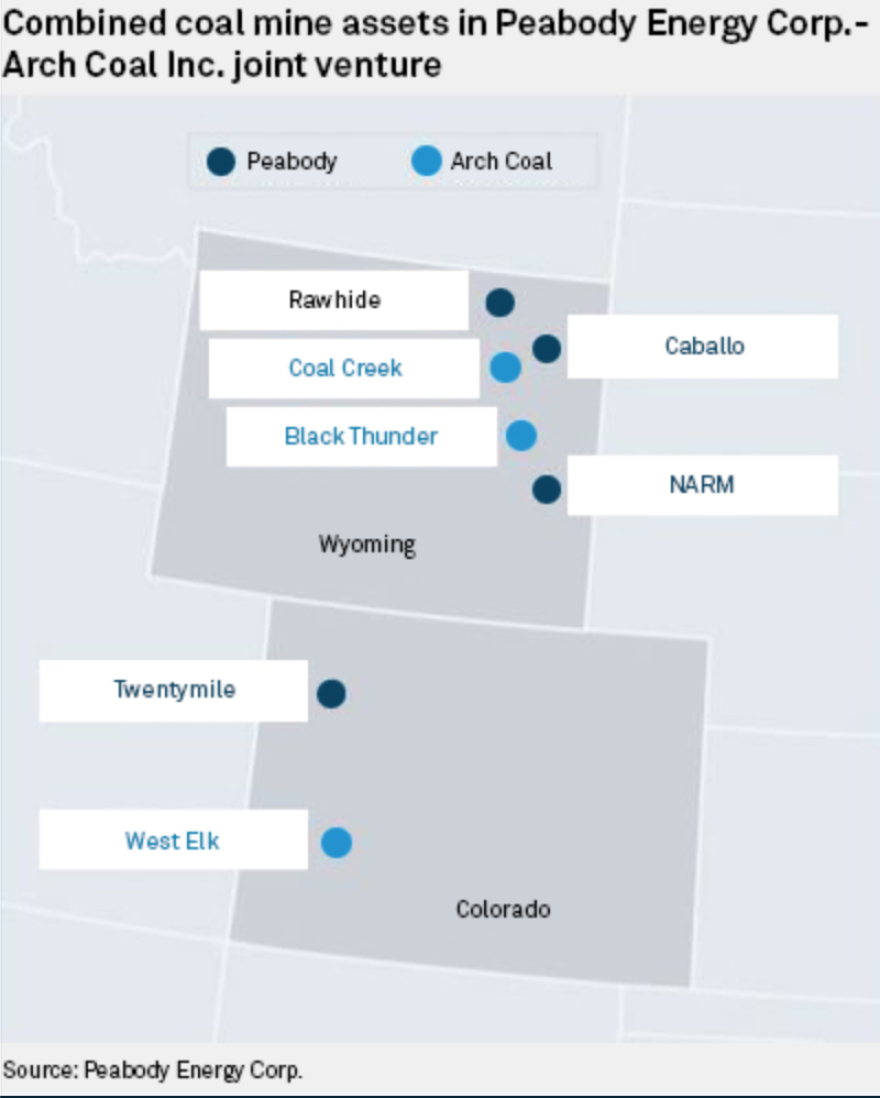 Two of the largest coal producers are combining forces to better compete with natural gas and renewable energy. Peabody Energy and Arch Coal are consolidating seven of their mines: five in Wyoming and two in Colorado. Last year, coal from those mines made up over a quarter of total national production according to calculations from S&P Global Market Intelligence.
"We're looking to create and deliver more value together than either company could do alone," said Charlene Murdock, Peabody spokesperson.
The joint venture would include turning the North Antelope Rochelle Mine and the Black Thunder Mine into one, lower-cost complex. Those are the two largest producing mines nationwide.
In a joint press release, the companies say the venture will free up $820 million over ten years. That's expected to stem from more efficient procurement and warehousing, and from reductions in long-term capital requirements.
Ben Nelson, the leading U.S. coal analyst for Moody's Investor Service, said this agreement could be the start to a different-looking Powder River Basin (PRB).
"It will enable it to compete more effectively but it will continue to be a difficult story both for the PRB and for this venture over time," Nelson said. "There should be greater emphasis on what companies can do to lower cost structures and compete more effectively with natural gas and also renewable energy."

Four coal companies have gone bankrupt in the last year, including two with mines in Wyoming: Westmoreland and Cloud Peak Energy. Nelson said this could be a model for what can still work for coal going forward.
"What's left needs to have either a more efficient story for shipping long distances or a very solid customer that's nearby that can help the owners get confident in the viability of those mining operations," Nelson said.
Connie Wilbert, president of the Sierra Club's Wyoming chapter, said the joint venture is an attempt to prolong coal's life a little bit longer.
"This consolidation is a desperate short-term survival strategy for coal and simply another sign that coal is in severe and permanent decline," Wilbert said.
All seven mines will be operating independently until the joint venture gets regulatory approval. Peabody's Charlene Murdock said it's too early to say what changes may happen with employees at any of the mines.