2017 Interns
Melaina Nielson's 2016-2017 Internship
There was a coffee shop in downtown Green River, Wyoming called the Book and Bean. With good books, good coffee, and good people, I spent my evenings after school there enjoying a spiced chai and gut-busting conversation with my closest friends. The owner, who I considered an aunt, would tune the dial to Wyoming Public Radio after most customers left, and we would listen to riveting programming while she made espresso and did the books. I am certain the years, from 8th grade through high school spent in that coffee house was when I developed an enthusiasm for radio. After high school graduation, I told my mother I was going to move to Laramie and become the "new woman" on Jazz Wyoming. And, while six years after the statement and close to two years interning at Wyoming Public Radio, I am not on Jazz Wyoming… but, I am still here, honored.
Working as a broadcast assistant and host for Wyoming Sounds under the direction of the master of radio programming himself, Grady Kirkpatrick, has been fabulous! The skills I have learned are vital in the field, and I have had fun the entire time. Conversing with music representatives from all around the country, listening to new music, and working the creative side of my brain is a thrill! I still have much to learn, but as I continue developing talents and trying to tone down the cheese on air, I know that radio is undoubtedly my dream métier.
Melaina is now on Wyoming Public Media's staff as a part-time host of Wyoming Sounds and broadcast assistant.
Listen to where Melaina hosted as an intern here.
---
Jamie Hampton's Summer 2017 Internship
Having the opportunity to intern with Wyoming Public Media was an opportunity I will forever be grateful for. I have always had a deep interest in the world of journalism, and getting the chance to take a look at the radio side of things was amazing. I learned skills that helped build not only my resume, but aided in producing materials to help build my portfolio as well. I learned so much from Micah Schweizer and everyone at WPM that I will carry with me through my future.
View one of Jamie's semester projects here. 
---
Nicholas Hudson's Spring 2017 Internship
Working at Wyoming Public Media has been an amazing privilege through which I have been able to gain invaluable experience, meet a community of kind and passionate people, as well as discover plenty of great new music. I have learned how to navigate and utilize radio software, how to host continuous music in an interesting and professional way, and many more important and infinitely applicable skills and insights. I hope to continue my involvement with Wyoming Sounds in the future, and to further it to whatever extent I am able.
View Nicholas' most recent instrumental electronic album here.
---
Brooklynn Gray's Spring 2017 Internship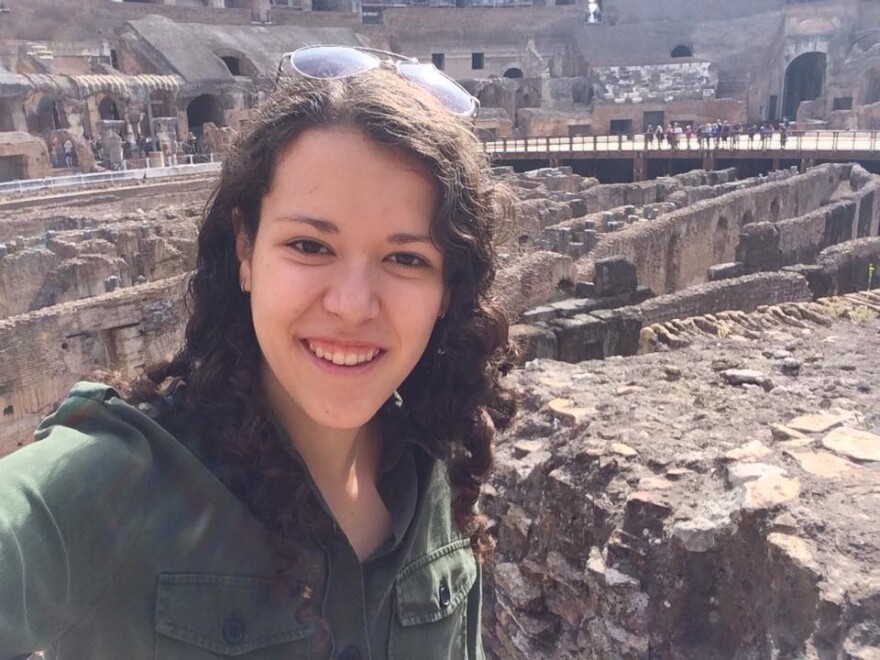 Although I worked as a News Intern last semester, I still learned so much as a Podcast Producer volunteer/intern over this past spring semester. I was given the creative freedom to produce episodes, create the intro theme, and write promos for a new podcast set to launch in June 2017. The ability to see the process and work that goes into creating a podcast is invaluable, and I could not have asked for a better experience to conclude my undergraduate career with. Wyoming Public Media will always hold a special place in my heart, and I am extraordinarily grateful I was able to have this experience.
---
Caitlin Tans's Spring 2017 Internship
Caitlin Tan was a Journalism major and Wyoming native completing her final semester of college. She is aspiring to be a journalist and to continue traveling the globe. Caitlyn began as a volunteer for WPM membership drives and then completed an internship with Micah Schweizer in cultural affairs during the Spring of 2017. Right after her May graduation from the University of Wyoming, she headed to Naknek, Alaska for her first public radio job: fish reporter. Caitlin spent the summer covering the seasonal fishing industry for KDLG in Dillingham (which is across the river from Naknek but required a plane ride to get to). Caitlin says, "ever since interning at Wyoming Public Radio I knew without a doubt I wanted to report for public radio." She then traveled to Washington, DC for a news internship at NPR before taking a position as News Assistant for All Things Considered at NPR in Dec. 2017.
View one of Caitlin's semester projects, assisting with The Modern West, here.
---
Alayna Whipple's Fall 2017 & Spring 2017 Internship
This year at WPM, I have spent most of my time helping the program director, Grady Kirkpatrick, with Wyoming Sounds. As one of Grady's music interns, I spend most of my time working with music, artists, and upcoming concerts.
For the music portion of my job, I help filter through new bands and songs, and pick which tracks to add to Wyoming Sounds. This spring semester I am responsible for the 2017 Concert Calendar (Updated weekly).
Part of the challenge when dealing with a huge music library is all of the work required to have an organized music selection. Some would say, at WPM that I am one of Grady's Music Librarians, and I couldn't be happier.