A Notorious Laramie Landlord, And Dropped Civil Suits: A Renter's Nightmare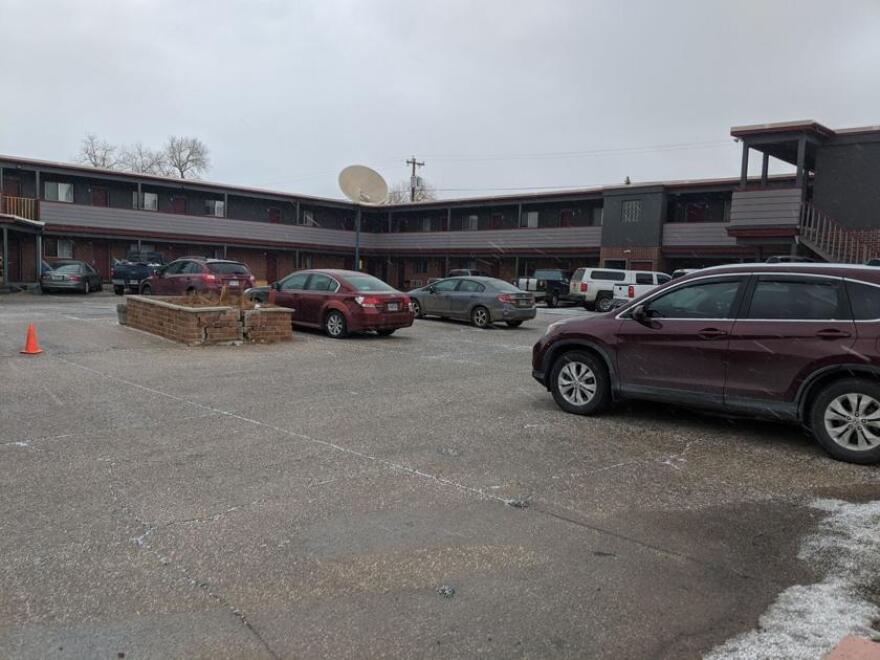 Back in 2019, a rental housing resolution was put up to a vote by the Laramie City Council. Among other things, it could have led to safety and health standards for rentals. It was a response to the many complaints that some council members had heard that described harsh living conditions and deceptive leases. But the resolution failed to get enough votes.
Since then, reporter Jeff Victor has taken a deeper look at the issue. And what he found was startling, particularly one landlord's name that appeared in court documents again and again. Wyoming Public Radio's Maggie Mullen spoke with Victor about his investigative reporting recently published in The Laramie Boomerang.
Jeff Victor: So Maximus Bossarei is pretty notorious among Laramie's renting population. Just about everyone who has rented from him has a story about substandard living conditions or an unreturned deposit. But when I started looking into it more, talking to more tenants, looking through civil suits that have been brought against him, I found something even worse. So he's been accused repeatedly of double charging tenants. So, for example, one tenant moves out before their lease is up, and maybe goes to another state, that happens pretty often. And Bossarei would re-rent the apartment to a new tenant, and then collect rent from both the old tenant and the new tenant at the same time, which you're probably not allowed to do.
Maggie Mullen: So how does he get away with that? I mean, what's the sort of legal recourse look like?
JV: So when you try to sue someone, you file in circuit court, and the court tasks the sheriff's office with serving a summons to the person you're suing. But if the sheriff or the sheriff's deputies fail to do that, the case is dismissed. The idea is that you can't sue someone without their knowledge. They're allowed to come defend themselves. But if they never answered the door or their phone, when deputies come to serve them, then officially they might not know they're being sued. And the case is dismissed. So this happened with Bossarei at least nine times. He never answered the door and the cases were thrown out.
MM: Does this speak to a larger pattern in Laramie, which you know, has a lot of renters in its population?
JV: So I don't know of anyone else taking advantage of the system exactly like this. And I should say other people in real estate across town do seem shocked by the details of the story that I published in the Laramie Boomerang. But Laramie is becoming more and more notorious as a sort of playground for slumlords. In Albany County, more than 50 percent of housing units are renter occupied. Part of that is university students, but part of that is that Albany County is Wyoming's poorest county. About one out of five people here live in poverty or extreme poverty. That means they're unlikely to own their own homes. And to put it bluntly, poor people are easier to take advantage of. They're less likely to take you to court, they don't have the time or the resources to hold you accountable for unreturned deposits or double charged rent payments.
MM: Right. And I mean, what about the rest of the state? I mean, there are a lot of renters and a lot of people in low income housing in Wyoming.
JV: There are certainly low income housing issues throughout the state. The Hoback RV park in Teton County, for example, is fighting with the owners of the park, who originally tried to evict everyone on New Years. Laramie is unique in a sense because of its extreme poverty and its large first-time renting population. Young people across Wyoming come to Laramie, and many of them rent their first apartment here. Since the story was published, I've been hearing from parents across the state sharing their frustration over how their child was treated in Laramie. And I know that Laramie city councilors hear similar complaints from Wyoming parents. And it is absolutely something that parents looking at sending their kids to UW should be aware of. You know, not all Laramie landlords are bad people. But bad people do like to be landlords in Laramie.
MM: So this particular landlord that you reported on in this specific situation, what was his response to these allegations?
JV: Well, I wish I knew. I tried to reach out and give him the chance to comment. I left several messages for him and sent him several texts, as well, to two numbers that I had used to contact him in the past for a different story. And he never replied to any of them.