Lander's One Shot Antelope Hunt Faces Mounting Pressure To "Re-Write The Script"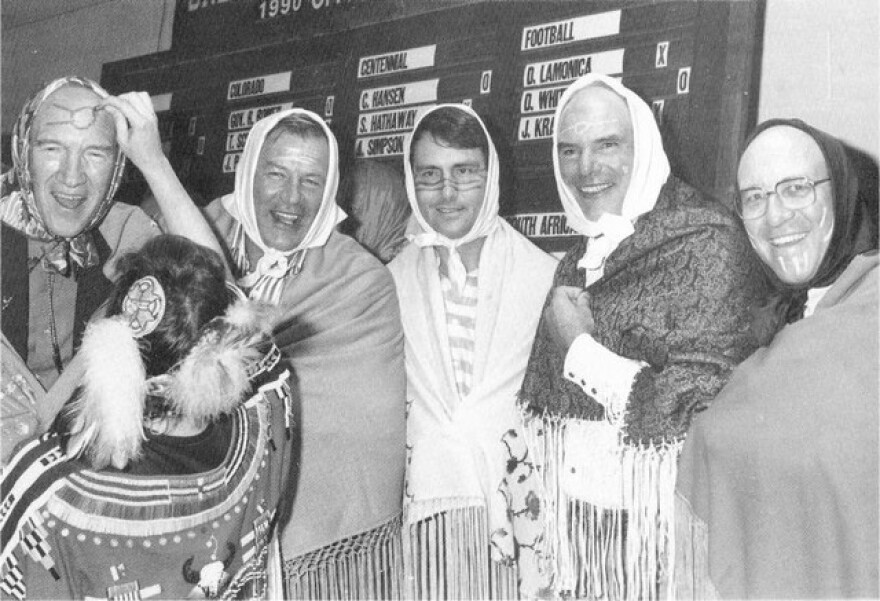 Every September, 24 hunters gather in Lander and compete to see who can down an antelope with a single bullet. The One Shot Antelope Hunt is an 80-year-tradition with a powerful alumni list- past shooters include former Vice President Dick Cheney, Donald Trump Jr., and governors of 31 states. Officially, the men who are invited to participate (women are excluded) come to shoot, hunt, and raise money for wildlife conservation. But they spend a good portion of the weekend playing Indian.
For years, organizers and participants have sold the Indian pageantry at the center of the event-including a mock ceremony where hunters are given "Indian names" and made "blood brothers" of the Eastern Shoshone tribe-as traditional Eastern Shoshone ceremonies. But that has never been the case.
"We do not sponsor, we do not sanction, nor do we participate collectively as a tribe collectively in that event," said Vice-Chairwoman Karen Snyder of the Eastern Shoshone Business Council.
Instead, she said, a few individual Shoshone families participate.
"What has happened throughout the years is that they have basically just handed down some of the practices, practices that I completely disagree with," Snyder said.
Practices including allowing the winners of the hunt to wear a war bonnet, and making the losers dress up in a woman's scarf and shawl and "dance with the Indian women" as penance.
Organizers called off this year's hunt, officially because of concerns about the COVID-19 pandemic. But the first cancellation since 1940 also comes after a summer of intense criticism of the event and those who have participated.
In June, photos surfaced of former Colorado Governor John Hickenlooper wearing a headdress after "winning" the hunt in 2018, and dressed like a Native woman to denote that he had "lost" in 2012. A group led by Indigenous environmentalists who had opposed Hickenlooper's campaign circulated the photos, along with a petition urging him to drop out of the race for a U.S. Senate seat in the state.
That didn't stop him from winning the Democratic nomination. But he told Colorado Public Radio that he regrets wearing a Native woman's scarf and shawl.
"It's certainly nothing that I would...it's nothing that I would ever do again," Hickenlooper said, but explained that the war bonnet is a different story.
"This was a longstanding traditional hunt. The headdress was placed on my head by the Hunt Chief. Had I not allowed him to do that, he would have been offended."
But Hickenlooper's characterization of the event is entirely incorrect.
"That'd be his choice. We wouldn't push it. It's a person's choice if he wants to wear it," said Arlen Shoyo, who is not actually a "hunt chief," but has played the role for several years.
In fact, Shoyo said all the ceremonial elements of the One Shot Antelope Hunt are pretend, and likened them to a pageant or a play. He and the other Shoshone performers are compensated for their time, though Shoyo wouldn't say how much. He feels that the recent criticism of the event by other Native people is overblown.
"If I felt it was a mockery of our traditional whatever, I would certainly say something about it. But it's all in good fun," Shoyo said.
Still, it's important to note that Shoyo and the handful of others who are paid to participate make up just a tiny fraction of Shoshone people.
Rose Ann Abrahmson, who's Shoshone-Bannock, had never even heard of the One Shot Antelope Hunt until this summer. When she learned about the fake ceremonies and costumes, she was horrified.
"Oh my goodness. In a way I see it as degrading. But it also sets a mindset. It sets this crazy mindset of superiority," Abrahmson said.
And she fears that those powerful men will bring that mindset to their interactions with Native people and nations.
Wyoming Governor Mark Gordon competed in last year's hunt, but had another commitment and left before the dress-up component. He said that it's time for certain elements of the hunt to be retired.
"What I think is important at this juncture is the opportunity really to blend what is a long time event … with more cultural sensitivity," Gordon said, noting that the event raises money for wildlife conservation.
In an interview in July, before the 2020 hunt was called off, Wade Alexander of the One Shot Antelope Hunt's board of directors said there were no plans in place to alter any elements of the event, and that participants are "not here to offend anybody."
Eastern Shoshone Vice-Chairwoman Snyder said the men who've participated need to take responsibility for the harm they've done. Including Senate hopeful John Hickenlooper.
"I would think that he could say that he recognizes that it was a misstep and apologize, because he now understands who we are as people, how we treat our women, and the honor and privilege of wearing a war bonnet," Snyder said.
She added that organizers need to "re-write the script" with broader Shoshone input, or eliminate the association with Shoshone culture altogether.
Hickenlooper's campaign declined an interview request from Wyoming Public Radio. Leaders from the One Shot Antelope Hunt didn't respond to one. According to Snyder, neither has reached out to try and make things right with the Eastern Shoshone tribe.
Colorado Public Radio's Bente Birkeland contributed reporting to this story.
Have a question about this story? Contact the reporter, Savannah Maher, at smaher4@uwyo.edu.