INSIDE ENERGY: Oil Boom Brings New Diversity To Rural Western States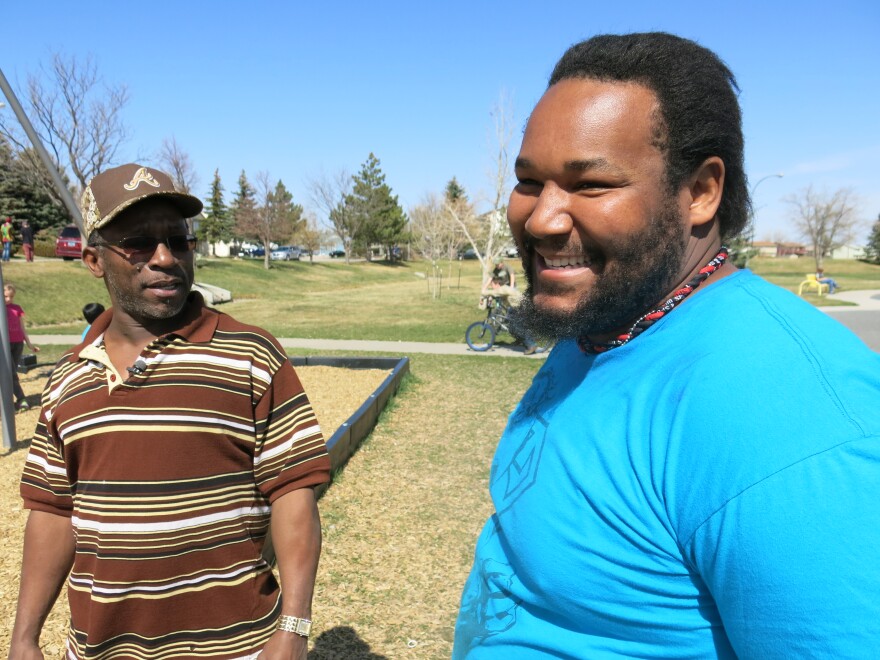 Over the last few years, Wyoming's African American population has grown faster than in any other state. According to census data, between 2010 and 2013, the number of black residentsdoubled. In some counties, especially those with a lot of energy development or tourism, that increase was more like 300, 500 or even 800 percent. Other rural Western states, all with unemployment rates well below the national average, are experiencing a similar trend.
According to Wenlin Liu, Principal Economist with the state's Economic Analysis Division, the shift in Wyoming and North Dakota particularly, is largely due to the oil boom of the past few years which created oilfield jobs as well as a need for more people to work in related industries like restaurants and hotels.
"Wyoming's population growth and decline, it is mostly driven by employment. We are different from Arizona or Florida. People go there to retire. Most people really come to Wyoming for employment purposes," Liu said. "That's why during the boom, they move here. When Wyoming's job growth declines or slows down, many of them move out."
That may be what is ahead. Thanks to low oil prices, energy companies are letting workers go by the thousands. Although Wyoming's job market hasn't been hit hard yet, layoffs are looming.
I met Steve Marsh and his two kids in a park near where they live in Gillette, an energy town in northeastern Wyoming. Marsh is juggling a sleeping toddler and a three year old tugging on his free arm, who is talking non-stop about going on the slide. Later on, his friend Ray Stewart and his daughter join us, along with Stewart's step-dad Ivan Pettigrew.
All three men moved here for work. Marsh from Chicago, Stewart from Shreveport, and Pettigrew from Atlanta. Marsh and Stewart work in the oilfields and Pettigrew is a janitor at a coal mine. The transition from urban, mostly black neighborhoods, to rural mostly white Wyoming, has been hard at times.
"When I first got here, if every time you stepped into a restaurant, you feel five, six, seven, eight eyes on you and then you look back and they look away and then other people from the table are still looking. It's uncomfortable, to say the least!" Marsh said.
Stewart deals with the looks head-on: "If you stare at me long enough, you're gonna be my best friend! It's gonna happen. Whether you want it to or not!"
Pettigrew said people here are generally helpful and pretty friendly. He has found the same in other states where he has gone for work. Not everyone, of course. When I met him at his apartment earlier that day, I was greeted by a neighbor's pick-up truck flying two confederate flags.
As of 2013, there were only an estimated 9,182 African Americans in the whole state. But that is up from 4,389 in 2010. During an energy boom, the state's population generally increases and goes back down during the bust. But one of the factors that could make this population change more permanent is children.
"People with kids and families, even in a slowdown they're probably trying to stay here," Economist Liu said. "It's not easy to move."
According to census data, between 2010 and 2013, the number of African American children in the state under the age of ten grew by over 40% while the number of white children remained steady. So while African Americans still make up less than 2% of the state's total population, these days, there is more of a community.
But Pettigrew explained the jobs that attracted so many new workers are not as plentiful as they used to be. According to the U.S. Bureau of Labor Statistics, Wyoming lost around 1,500 mining and logging jobs between December and March.
"In 2009 and 2010, you could basically lose your job one day and start working again the same day or the next day! Now its not that easy," Pettigrew said.
So I asked the two younger men, if the jobs went away, would you stay?
Steve said probably not. He is more of a city guy. But he conceded, his priorities have changed. "To be quite honest, I'm here for my children now."
Stewart, however, was unequivocal. "I would definitely stay. I like the community. Within the five years I've been here I met my wife. I like it here."
What's Next: For some history on Wyoming's black residents, check out The Black Cowboys of Wyoming, on Wyoming PBS. What do falling oil prices actually mean for workers on the ground? Inside Energy's Emily Guerin looks at the impact on employment numbers. And for more info on demographics than you could ever possibly need, check out QuickFacts from the U.S. Census Bureau.